The two islands St. Marie (in Malagasy Nosy Boraha) and Nosy Nato are located at the East coast of Madagascar and belong to the province of Toamasina. Especially Nosy Boraha is, besides Nosy Be, one of the most visited islands of Madagascar and has a good infrastructure. St. Marie is relatively large, around 50 km long, above two to seven kilometres broad and has about 16.000 inhabitants. The north of the island has a little residual rainforest, the rest of the island mainly consists of secondary vegetation. A long road, the RNS21, leads from the island's south to its northern tip. Some rusty, decrepit cars drive along St. Marie's roads, but yellow Tuk Tuks mainly dominate the streets.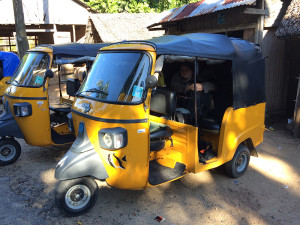 Capital of the island is Ambodifotatra. The city offers some restaurants, bars and grocery shops as well as souvenir booths, but also has some kind of small zoo in the south. The Malagasy name Boraha means as much as Abraham, which ascribes to the former arabic population. In 17th and 18th century, the island was settled by pirates, among them legendary freebooters like William Kidd or John Bowen. Still today some people suppose the treasure of William Kidd to be hidden on the "pirate island" Ile aux Forbans in the bay of Ambodifotratra, where they also found various pirate ships. But the tiny island is fady and no one is allowed to visit it, a fact that is cooling down potential treasure hunters immediately. Some of the pirates' ships still lay on the ground of the sea. A small museum on the harbor island Ilot Madame tells their story and more about the island itself. Some hundred meters further, there's an original pirate cemetery as residue of those older times. The neighbourhood is also home to Madagascar's oldest church.
Today a modern, small airport offers daily flights to Antananarivo. Apart from that, St. Marie can be easily reached via boat from Soanierana Ivongo. Depending on waves, it takes about 2-3 hours – since 2016 even quicker with a new boat.
 St. Marie is mainly famous for its white beaches of dreams. In several places, you can dive and snorkel. The coral reef around the island is untouched and home to a variety of corals, fish and other sea creatures. If you prefer to relax, get a cocktail in a bar and take your place on the beach between palm trees – or have fun in the local discotheque. From a five stars hotel to simple accommodation, Madagascar has everything. But generally, island life is rather simple.
In August, humpback whales come to the coast to bear their babies. Coming from St. Marie, you can easily watch these gentle giants of the sea from a boat. The annual whale festival is celebrated everywhere on the island and was founded to make people aware of the sea mammals' conservation.
If you like it rather lonely and less touristic, maybe you like to try the nearby island Nosy Nato, too.