An absolute insider tip for kitesurfers is hidden at the northernmost tip of Madagascar: Sakalava Bay. The name comes from the Sakalava people who live here. The beautiful bay is almost 5 km² in size and is protected by an offshore coral reef.
The kite season in Sakalava Bay is unusually long. It starts in March and lasts until December. And the conditions in the bay are ideal for kitesurfing: Temperatures are between 24 and 34°C, the water is low and pleasantly warm at 23 to 28°C, and there are areas with strong waves on the reef as well as mirror glassy water in the bay itself. The sandy, soft ground and maximum waist-high water are ideal for beginners, but also a dream for professionals. And most importantly, it is always windy – the bay is one of the windiest places in Africa! In the high season between June and September, the wind is usually between 20 and 30 knots, and in the low season, it is still around 12 to 20 knots. The east wind even has its own name here: The Malagasy call it Varatraza.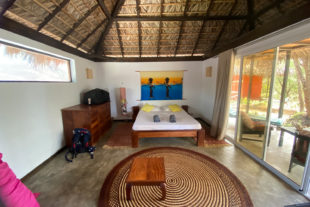 There are several small kite resorts on the edge of the bay. However, it never gets crowded on the water! So if you love endless white sandy beaches and turquoise sea for kitesurfing and relaxing, this is the place for you. Lonely dream beaches, good food, beach bars and beautiful bungalows make you feel like you've arrived in a real paradise. All resorts offer kite schools for beginners, advanced and kitesurfing for professionals. Windsurfing (foil surfing) is also in the portfolio.
In 2020, Sakalava Bay was for the first time one of the venues of the GKA Kite World Tour, the largest global organisation for kitesurfing competitions. This brought it to the attention of a wider public for the first time. In 2022, Madagascar's first kitesurfing festival (FestiKite) was held in Sakalava Bay. Nevertheless, Madagascar is still an absolute insider tip for kitesurfers and only a handful of surfers find their way here.
From Antsiranana (Diego Suarez) it takes about three-quarters of an hour by taxi or off-road vehicle to reach Sakalava Bay. From the asphalt road between Antsiranana and the fishing village of Ramena, a sandy path leads off at Ankorikakely, which takes you to the bay after six kilometres. The local kite resorts are usually happy to organise transport. In Ramena itself, there are two other hotels that offer kitesurfing with excursions to Sakalava Bay or the neighbouring Emerald Sea. There are regular domestic flights to Antsiranana from the capital Antananarivo.