The coronavirus (SARS-CoV-2, the abbreviation for severe acute respiratory syndrome coronavirus-2) has been keeping the whole world in suspense for more than one and a half years. With the pandemic, travel to and in Madagascar has also been severely restricted. This page shows the current state of affairs on the island.
When can I travel to Madagascar again?
Last update: 05th December 2021
Since 06 November 2021, Air France and Air Madagascar flights have been allowed to fly from Europe to Madagascar. Originally, entry from countries with an incidence exceeding 300 Covid19 cases per 100,000 inhabitants per week or that are new variant endemic areas should be prohibited. In fact, this regulation has not been implemented to date, so there are no entry bans yet in place for travelers from the affected countries. An overview of the current incidence numbers can be found here. On November 27, 2021, flights from Mauritius to Madagascar have been suspended.
What are the current restrictions?
Last update: 05th December 2021
Upon arrival in Madagascar, a negative PCR test must be presented, which must be no more than 72 hours old. A second PCR test is performed at the airport, the cost is 25 € and has to be paid on site. Currently, up to five hours of waiting time must be planned for the tests at the airport after arrival. However, capacities are to be increased. Officially, travelers will then have to stay in quarantine in specified hotels for two nights after arrival – until the result of the second PCR test is available. Proof that at least two nights have been booked and at least one night has already been paid for must be shown at the airport upon arrival. Transfer to the hotel is only possible by an approved shuttle. The hotel may not be left until the result of the PCR test is available. If the PCR test is negative, the affected travelers may move freely in Madagascar. If the result is positive, the affected persons must go into a 14-day quarantine within a specified hotel. Important: Currently, at least in some cases, the result of the PCR test was only available after four days. In these cases, the travelers also had to stay in the quarantine hotel for four days.
The wearing of a mouth-nose cover is obligatory throughout Madagascar in streets, squares, and in any public areas, vehicles and facilities. At least a one-meter distance from other people is desired. Currently, no region is under lockdown. Domestic flights are possible.
Taxis are allowed to drive, carrying a maximum of three passengers at a time. Taxibrousses and Taxi Be are also allowed to travel but must be disinfected before each use. The middle row in Taxibrousses may not be used. Passengers must also disinfect their hands when boarding. Boarding without covering the mouth and nose is not permitted.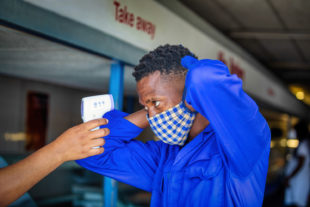 Madagascar was classified as a "simple" risk area by the Robert Koch Institute (RKI) until 01st August 2021. This classification is now no longer applicable, as a general risk of infection exists worldwide and is no longer limited to specific countries. Madagascar is currently NOT a virus variant area and NOT a high-risk area. The Center for Disease Control and Prevention (CDC) currently classifies Madagascar as Level 1/Low Level and recommends full Covid vaccination prior to travel.
Note about Covid Organics
According to current studies and the World Health Organization (WHO), the much-praised drink from "Covid Organics" in Madagascar is not suitable for preventing corona infection or for alleviating the course of disease with Covid-19. It is mainly based on annual mugwort (Artemisia annua), a plant originating from Eurasia, being partly medically effective. However, the exact composition of the drink has not yet been published. Since April 2020, the drink has been widely marketed and sold on Madagascar as an alleged remedy.
Development of the pandemic in Madagascar so far
Due to its isolation as an island, Madagascar was able to maintain its status as a Covid-19-free country for a relatively long time. With the rapid international spread of the virus, however, Madagascar was also forced to take measures. On March 17, 2020, it was decreed that all airports in the country would be closed for 30 days from March 20th.
The first three cases of infection were promptly confirmed on March 20, 2020, in the capital Antananarivo. The three people affected had arrived in the country on one of the last planes that were to bring Malagasy people home from other countries. All other passengers on the flight, as well as those of all flights that had taken place up to 14 days earlier, were quarantined. However, about 20 people could not be found.
A lockdown was imposed on Antananarivo from 23rd March 2020, which was extended seven times until 06th September 2020. A nationwide mask obligation was introduced. No one was allowed to leave the region in which they were located. Only vital stores such as supermarkets and pharmacies were allowed to open. Churches, schools, nightclubs, bars, museums, and restaurants were closed. Taxibrousse and Taxi Be were no longer allowed to drive. Only one person per household was allowed to move outside the apartment once a day, exclusively between 6 a.m. and 12 noon. All schools were closed. The lockdown with further restrictions was later extended to Tomasina (Tamatave) on the east coast and Fianarantsoa in the southern highlands. Punishments for people caught outside their homes without masks made headlines: They were sentenced by the dozens to sweep streets and sidewalks. On March 23, 2020, a crisis management command center was opened at the Ivato Mining Business Center. In Toamasina and Fianarantsoa, the lockdown was lifted after a few weeks. On August 26, the RN2 between Antananarivo and Toamasina was reopened for Taxibrousse, and Taxi Bes were allowed to drive within Antananarivo again.
Domestic flights were resumed under security arrangements on September 1st, 2020. Five days later, 2020, the lockdown of the regions Analamanga with the capital Antananarivo and Moramanga in the eastern highlands was lifted. The previously valid curfew from 10 p.m. until 4 a.m. was replaced by a curfew from 11 p.m. to 4 a.m. limited to the regions of Analamanga, Sava, Diana, and Boeny. The ban on assembly was raised from 50 to a maximum of 100 people. Museums, art galleries, bars and cinemas, churches, and schools were allowed to reopen with restrictions. During September 2020, RN7, RN4, and RN6 were reopened for Taxibrousse traffic. Until September 30th, international flights – except for cargo and evacuation flights – were not allowed to fly to Madagascar. On October 1st, the first plane from international areas landed again on the island. It was the first time in seven months.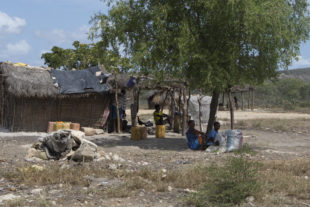 All regions of the country are now affected by the pandemic. However, Madagascar has very little medical care. Hospitals are mainly located in large cities and only a few can keep up with international hygiene standards. In rural areas, there is often only absolutely basic care, if at all. The country is in no way prepared for a high number of respiratory patients. At the beginning of the pandemic, the few existing hospitals were accordingly quickly overburdened. As a result, some hospitals only accepted patients with the most severe courses of disease. There was a lack of gloves, mouth-nose covers, face shields, and everyday medical supplies. Additional protective equipment for hospital staff was flown in from abroad.
In August 2020, one of several new treatment centers opened at the Mahamasina football stadium in Antananarivo. Almost simultaneously, more than 1000 oxygen concentrators for hospitals arrived from abroad and another 2400 are still expected. On September 6th, 2020, the Malagasy president announced that the country had already overcome the pandemic during a speech. Three Covid19 treatment centers in Antananarivo were closed again.
The national state of health emergency was lifted on 18th October 2020. At the same time, however, entry into Madagascar was completely banned for citizens of countries undergoing a second Corona wave (see the list of countries in the first section of the article). From 01st October 2020 to 27th March 2021, Madagascar's borders were briefly open, but only in parts. Only the island of Nosy Be in northwestern Madagascar with the international airport Fascene was allowed to be served by international flights. The opening of all of Madagascar to international flights, originally scheduled for October 29, 2020, was postponed until further notice.
As of January 2021, case numbers began to increase again. On March 20th, 2021, it was announced in a public speech by the president that the island of Nosy Be and the city of Mahajanga would be placed under a 14-day lockdown. Vaccinations against Covid-19 would not be offered to the population in the foreseeable future. Several high-ranking politicians flew to La Réunion to be vaccinated there. After protests, the government rowed back. Madagascar is now a member of the COVAX initiative of the World Health Organization (WHO). COVAX stands for "Covid-19 Vaccines global access". On April 03, 2021, a renewed lockdown was announced for the regions of Analamanga (including the capital Antananarivo), Atsinanana, SAVA and Boeny, and the island of Nosy Be. In May, the first regions such as SAVA were reopened, while others were placed under lockdown. The same month, the first 500,000 vaccine doses arrived in Madagascar. In June 2021, the lockdown ended and numerous restriction loosenings were announced.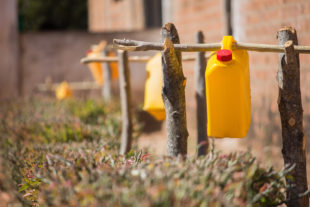 The test capacities in Madagascar are very limited. Currently, an estimated average of 80 tests per day can be performed nationwide. The official infection and death rates in Madagascar are not expected to reflect reality. Currently, only those who have already tested positive and died in hospitals are counted – which is likely to be the absolute minority of those infected. There are no autopsies outside of the hospitals of deceased people. Those who die at home and were not tested do not fall into any statistics anyway.
However, Madagascar has a very young population due to the general poor medical care and high poverty. More than 60% of Madagascans are under 15 years old. Since children seem to be critically affected by the pandemic only in small numbers, it is assumed that the country has lower mortality rates for this reason as well. As of April 2021, Covid-19 treatment is free throughout Madagascar but only limited medicine is available at all.
The lack of foreign funds and tourism has significantly worsened the situation of national parks and protected areas in Madagascar. During the dry season, there were more slash-and-burn clearances and illegal deforestation than in previous years. People who otherwise live from tourism are currently forced to switch to agriculture and self-sufficiency. As a result, not only forest areas but also the rare animals living in them are massively threatened. It is unclear how many hotels will be able to reopen after the resumption of international flights. The reopening of Madagascar's borders was announced on October 13, 2021.
Protection measures in national parks and protected areas
The SARS coronavirus-2 was originally probably transmitted from bats to humans. Lemurs are genetically much more similar to humans and it is already known from several viruses that they can jump from humans to animals. As early as the late 1990s, Africa proved that a chimpanzee population had been decimated by viruses that cause respiratory diseases. These viruses originated from humans who had visited the apes in the wild as part of various ecotourism programs. Something similar could happen to Madagascar's lemurs if they came into contact with the SARS coronavirus-2.
More than 90% of Madagascar's 108 lemur species are already threatened with extinction. A pandemic could wipe out their populations completely. The IUCN (International Union for Conservation of Nature) has therefore recommended restrictions that should be implemented in the vicinity of particularly endangered species of monkeys. The following measures should be observed by locals and travelers alike whenever they visit protected areas, reserves, and national parks: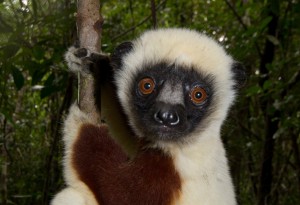 Wearing a mouth and nose cover is mandatory.
Direct contact with lemurs, for example, letting them jump on your shoulder or feeding them, must be avoided at all costs.
A minimum distance of 10 meters to lemurs is to be kept at best, 7 meters should under no circumstances be undercut.
Anyone who is ill or shows even slight cold symptoms should refrain from visiting any lemurs and their immediate surroundings.
Anyone who has had contact with people suffering from Covid-19 in the last two weeks should also refrain from visiting lemurs.
Madagascar National Parks (MNP) has decreed the following measures for all national parks on the island:
Hands and feet must be disinfected before entering park offices.
Entrance fees can only be paid via Mobile Money (= via Malagasy cell phones).
Every visitor is registered by name in the Park Office.
The wearing of a mouth and nose cover is mandatory throughout the park area. Children under 6 years of age are excluded.
Patients at risk are not allowed to visit any National Park.
Eating is prohibited in the entire area of all National Parks, except at designated picnic areas.
At the park entrance, the temperature is measured with a contactless forehead thermometer.
All bags and items carried by travelers must be disinfected before visiting the park.
A maximum of four visitors per local guide is allowed.
One-meter distance between all persons must be maintained at all times.
Every two hours there are "sanitary checks" (unfortunately it has not been carried out whether these are simple temperature checks or other).
At least eight meters of distance from any animals must be maintained.
Touching any animals or plants is expressly forbidden.
Title picture: © Achisatha, lizensiert bei AdobeStocks Measuring temperature & Covid-19 testing: © poco_bw, lizensiert bei AdobeStocks Tippy taps: © ivanfolio, lizensiert bei AdobeStocks  
Newspaper articles on the subject: