Toamasina (Tamatave) is the largest city on Madagascar's east coast, and is home to the country's largest port. This makes it the largest transshipment centre for spices, food and everyday goods in the area. The city has two markets, the small market (Bazary Kely) directly at the station and the large market (Bazary Be) between Rue Admiral Billard and Rue Bertho. If you have a few hours, you should stop by the Bazary Be to get a taste of the Malagasy way of life and perhaps acquire a few little things. The market was built as early as 1900 during the French colonial period. After a major fire in 2010, in which more than half of the original Bazary Be burned down, a new, modern hall with 750 stands on over 6000 m² was built in 2013. It was opened in June 2014.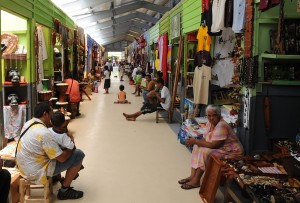 Madagascan markets are always colourful, loud and full of life. A wide variety of people from different ethnic groups from the surrounding area come together here to sell their goods and make a living – this is no different in Toamasina than elsewhere in Madagascar. Toamasina's Bazary Be is famous for its size, rich choice of food and especially spices. Here cloves, cinnamon, wild pepper and vanilla pods pile up next to saffron and the turmeric, which is often confused with it. Besides spices Toamasina also offers a lot of fruit. Mangos, rambutan, lychees, guavas, jackfruits, bananas and pineapples can be purchased freshly harvested depending on the season. Otherwise, rice is available at every corner, of course, and other foods such as meat, fish or peanuts are also on offer at the Bazary Be.
A small souvenir area is also part of the market repertoire. If you like, you can buy clothes with Malagasy motifs, raffia baskets and bags, bast figures or woodcarvings. The purchase of mussels, plants or stuffed animals should be strictly avoided for reasons of species protection, especially as these goods are generally confiscated by customs at the airport. When buying spices, fruit and other goods, the basic rule is that the sellers expect trading and bargaining. Prices for foreign travellers are often multiplied, so if you are not familiar with Malagasy or at least have limited knowledge of French, you should seek the help of a guide. The locals know their way around and know who has the tastiest fried bananas and the highest quality vanilla.