Loky Manambato:
This reserve is named after the two rivers that flow through it: Loky and Manambato. It is home to the last lemurs of its kind. Even if as a traveller you have to take a lot for an encounter with these animals: Here you are rewarded with fantastic photo motifs and unique experiences that may not be possible in a few years.
Location:
Daraina, a small village directly within the protected area, lies in the northeast of Madagascar directly at the RN5a, which leads from Ambilobe to Vohémar. From the capital Tana there are flights to Antsiranana (Diego Suarez) and Sambava. The roads from Antsiranana to Ambilobe and from Sambava to Vohémar are mostly paved, but have suffered a lot during the last years. Arriving in one of the two cities, however, the onward journey becomes even more difficult: it is only 120 km from the west from Ambilobe and only 40 km from Vohémar to Daraina. However, both roads are in such poor condition that they are not passable at all in the rainy season and even in good weather conditions only with off-road vehicles. The 120 km from Ambilobe to Daraina, for example, can be covered in the car with experienced drivers in about 10 hours.
Information about the protected area:
The area has only been under protection since 2005 and has since been managed by the non-governmental organisation Fanamby. All shares of Loky Manambato are spread over an area of 2500 km². Of these, only 710 km² are dry forest, mangroves and savannahs. A small part of 150 km² is a marine reserve, which includes eight smaller islands and a coral reef. The protection efforts are still in their infancy. Farming is hardly possible in the dry area, zebus find no grass and so many locals only have to dig up the hard ground in search of gold. Unfortunately, the gold digging takes place directly under the last Golden Crowned Sifakas, whose habitat is dwindling daily. For the  rare lemurs and all the other native animals there to have any chance of surviving in the long term, the region urgently needs more nature-loving travellers. Any traveler who generates revenue in this inhospitable area can show the locals that protecting their natural wonders is worthwhile and a long-term, sustainable alternative to destroying the unique wilderness. Only if the locals can survive from ecotourism in the long term will the Golden Crowned Sifakas have any hope for the future.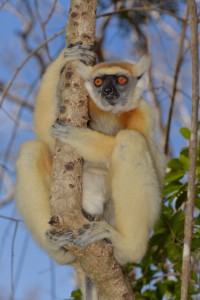 Climate:
In the protected area around Daraina it is one thing above all: very hot. Temperatures around 40°C are not uncommon, and it is extremely dry outside the rainy season. Even at night the temperatures hardly ever drop below 25°C. You have to bring enough water here, you can't buy one on the spot.
Infrastructure:
Due to its poor accessibility and the so far only rudimentary protection efforts, there is almost no tourist infrastructure. The only accommodation for travellers is Camp Tattersalli, which is run by Fanamby. These are eight rustic bungalows with running water and a covered dining area. Electricity is usually available at night. Apart from these cabins, there are no hotels, lodges or even a fortified campground in the area. Rudimentary accommodation is offered in Daraina itself, but it is advisable to set up your own camp in front of the lemur forest or to use Camp Tattersalli. You hould also take sufficient quantities of food, drinking water, petrol and all other daily necessities from Ambilobe or Vohémar. With a bit of luck you can organize a guide on site, but you should not expect very good knowledge of English or animals.
Flora and Fauna:
The forest near Daraina is Madagascar's best place to see the rare Golden Crowned Sifaka (Propithecus tattersalli). These white lemurs with the golden markings have been listed by the IUCN for years as threatened with extinction, but the protection efforts are still very limited. There is only this one, tiny population (estimated to be no 10,000 animals) of the Golden Crowned Sifakas worldwide. In the same forest, with a little luck and patience, travellers can see an undescribed type of fork-striped lemurs that was only discovered in 2010. And also a third very, very rare lemur is native to this protected area: the Daraina sportive lemur (Lepilemur milanoi), which is also only found here. Reptile lovers can find chameleons (Furcifer petteri), various geckos (Paroedura spp.) and leaf-tailed geckos (Uroplatus henkeli). A total of 10 lemur species, about 130 different birds, almost 75 reptile species and even more than 35 amphibian species are said to exist here.
In short: If you want to experience the last natural wonders of Madagascar up close, you should definitely come here as soon as possible! In a few years, the forest could have completely disappeared without many people noticing it.
More worth reading about this topic: