There are currently ten airports operating in Madagascar, only three of which offer international flights. Madagascar's airports differ greatly in equipment, size and modern equipment such as safety checks or baggage carousels. The number of passengers handled and the professionalism of the local staff varies accordingly.

Antananarivo (TNR): The airport Ivato, named after the district of the same name of the capital, is Madagascar's largest airport and the one with the most arriving international flights. Although not very large compared to other international airports, it has several digitized check-in counters, screening equipment, baggage carousels, waiting areas and all the other things you'll find at international airports.
Antsiranana (Diego Suarez, DIE): Arrachart Airport was named after a French pilot who lived during the Second World War when the airport was built. The airport is relatively well frequented and equipped with a small kiosk and small waiting areas with fans.
Sambava (SVB): The airport of the vanilla capital is quite small and has accordingly no own name. An ATR can just land there, bigger airplanes can not. In the last years the runway has suffered quite a lot from cyclones and floods.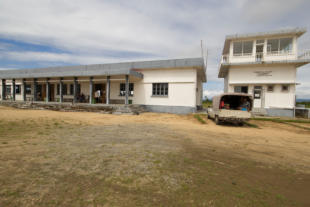 Maroantsetra (WMN): The tiny airport of Maroantsetra is called "Aerodrome", but it consists of only one hall and a bumpy, crooked runway. Twin Otter planes can still land here with difficulty. Chickens like to walk around here, the suitcase scale is antique and almost always shows a few kilos too little. The flight tickets are still handwritten here. Also for arriving and departing flights there is a blackboard written by hand with chalk.
Toamasina (Tamatave, TMM): In the biggest port of Madagascar directly at the east coast there is a small but nice airport called Ambalamanasy. It is named after the district of the same name. There is a small kiosk, bus shelters with fans and digital scoreboards, but the latter have not got beyond the demo text display yet.
Tolagnaro (Fort Dauphin, FTU): The airport of Tolagnaro is small and a bit older, but still usable.
Toliara (Tuléar, TLE): In the south of Madagascar the small airport of Toliara was modernized a few years ago, so that in the meantime screening devices and modern switches are available. However, nothing works faster.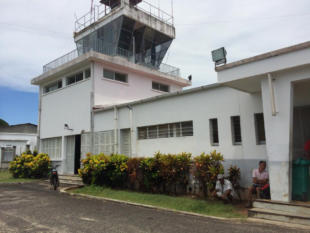 Morondava (MOQ): This small airport is relatively well frequented due to its proximity to Baobab Alley.
Mahajanga (MJN): The Amborovy Airport, formerly named after a former president Tsiranana Airport, is located in the west of the island. Two international airlines from Mayotte and the Comoros land here regularly, which has created something like a touch of international flair.
Nosy Boraha (St. Marie, SMS): "This is one of Madagascar's most modern airports, and is well within European standards. This is the only airport transfer in Madagascar where you can paddle in a pirogue from the island of Nosy Nato directly to the runway.
Nosy Be (NOS): Fascene is, apart from the capital, the biggest airport of Madagascar and accordingly modernly equipped. There are regular international flights to Ethiopia, La Réunion and Italy.
The formerly existing airports of Ambilobe, Morombe, Farafangana, Manakara and Fianarantsoa have not been used for years and are decaying noticeably. However, these airports are more like rudimentary runways without any further infrastructure, from which today STOL (short take-off and landing) machines could take off at most. If at all. But it is also best to bring a good dose of humour and patience to the other airports in Madagascar. Mora mora also applies to flying in Madagascar!