Since the ceasefire of Compiègne in June 1940, wide parts of France, including the oversea territories and thus also the colony of Madagascar, were under German military administration with a French government in Vichy. This so-called Vichy government de facto owned Madagascar. Meanwhile, Japan had gained predominance in the Indian Ocean. The Germans planned to give Madagascar to the Japanese and thus raise the control over important sea routes with the Japanese allies.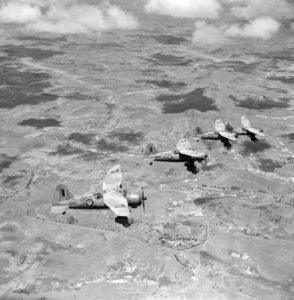 But Great Britain heard of these plans in the end of 1941. To prevent Japan from taking over Madagascar as a submarine base, Great Britain planned a pre-emptive strike. They planned to occupy Madagascar. Charles de Gaulles requested Winston Churchill in a letter to use free French troops against Madagascar, too. But Churchill decided to occupy Madagascar without free French help. In March and April 1942, first British reconnaissance flights were operated by South African Air Force above Antsiranana (Diego Suarez). On 23rd March 1942, a fleet called Force 121 left Great Britain to meet more troops called Force H, led by admiral Edward Syfret, in Sierra Leone. In South Africa, even more troops joined the fleet.
On 5th May 1942, Great Britain began the so-called Operation Ironclad. With more than 50 ships, fleet Force 121 under general Robert Sturges (Royal Marines) headed towards Antsiranana on Madagascar's northeast coast. Land forces were led by admiral Edward Syfret. While an attack in east Antsiranana distracted the Madagascans, British infantry invaded the Courrier and Ambaratra bay with landing crafts. Ships of the Vichy troops that were already in Antsiranana bay, led by general governor Armand Annet, were bombed by the British Air Force. In total, Annet had about 8000 soldiers under his command, among them more than 6000 Madagascans. Only maximally 3000 of them were stationed around Antsiranana at that time. Furthermore, the Madagascan's equipment was questionable. The other soldiers were spread to Tamatave (today Toamasina) and Brickaville (today Ampasimanolotra) on the eastcoast, Ambanja in the northwest, on Nosy Be and some smaller cities of the South. Accordingly, the resistance of German-Malagasy troops against the British attack in Antsiranana was weak and loose.
On 7th May 1942, after only two days, the battle ended with the Vichy troops escaping to southern Madagascar. It was not before the 29th of May 1942 that three Japanese submarines reached Antsiranana bay. During a battle of two sent ahead smaller submarines with the battleship HMS Ramillies, the Japanese crew of one of the submarines stranded. Three days later, they were discovered by Royal Marines – and killed. The second sent ahead submarine had been sunken in the sea during the battle. Afterwards, over months again and again smaller battles took place in Antsiranana bay.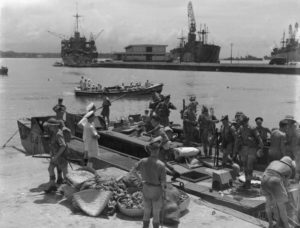 From June to August, the British troops got support: A brigade of King's African Rifles from British East Africa and two South African brigades, one from the British protectorate Rhodesia.
On 10th September 1942, the British army invaded Mahajanga (Majunga) in northwestern Madagascar. This attack had been planned as Operation Streamline Jane. From Majunga they conquered the capital Antananarivo and the more south in the highlands located city Ambalavao against few resistance. Annet and his troops surrendered in September in Ihosy in south Madagascar. Until this date, both sides had lost about 600 people.
After Operation Ironclad that was successful for Great Britan, Paul Legentilhomme became new High Commissioner of Madagascar. He belonged to the free French. As the exemption of France happened in 1943, this directly resulted in changes in Madgascar, too: Again the French took over the power and continued the French colonial domination. A little later, Madagascar's fight for independence began.