Preparation at home
To enjoy your travel, you should visit a competent travel medicine clinic or institute for tropical diseases beforehand. They can advise you individually in details the best way. Medication e.g. for malaria prophylaxis are only available by prescription, and some can have undesirable side effects. So please do not try your medication in Madagascar for the first time!
Additonally, booster those vaccinations your travel doctor suggests you, and have a complete checkup at your family doctor before the start of your journey. We also recommend a call in at your dentist. It is not recommended at all to visit a doctor in Madagascar. Please reflect with your doctor upon local conditions, e.g. very hot climate or exhausting hikes like in Tsingy de Bemaraha, and if you are up to it. It is no benefit to you to trudge yourself through a travel only to reach a certain destination. Madagascar offers enough travel destinations for every demand and condition.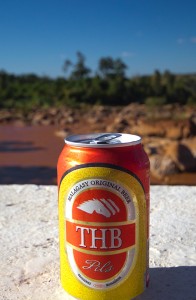 First-aid kit
Even those who bring no minor ailments with them should bring a small first-aid kit to Madagascar. Please let your travel doctor advise you which medication and products come in question for you. We have made a detailed list of needed medication here.
Please keep in mind that Madagascar has no regular opportunity to cool e.g. insulin everywhere. So if you need medication for a chronic disease, have open wounds or other problems, please talk to your travel agency about this topic before your arrival in Madagascar.
Protection against mosquito bites and venomous animals

Most popular mosquito sprays used in Europe against mosquitons are not useful at all in Madagascar. You should not deny yourself of additional mosquito protection also if using Malarone or other malaria prophylaxis daily. Incense sticks, odour candles and allegedly "mosquito safe" trousers or shirts only offer very limited protection. We always suggest to use a DEET-containing mosquito spray, e.g. Antibrumm forte. In addition, you should always use tight mosquito webs in hotels, bungalows and while camping and wear long trousers and longsleeves in the evening. At home, you can already prepare your trousers and shirts by washing them with No Bite.
Concerning poisonous or venomous animals, we can keep our advices short: There are no really dangerously poisonous animals on the island. Only watch out for Scolopenders, but the bites of these centipedes are comparable to a wasp sting in Europe.
Staying healthy in Madagascar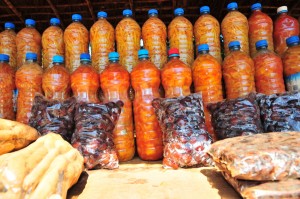 To stay in good health during your trip, there are some simple guidelines: Avoid to eat raw food and always wash vegetables and fruits with soda before eating. Stay away from waste and garbage clusters and care for hand hygiene (routinely hand washing). Fried food, which has been carried around or laid on the market for an uncertain time, shouldn't be eaten anymore. Let people prepare your food at the market right in front of you, usually this is not a problem. Don't consume icecubes or crushed ice, even not in drinks. It is recommended to brush your teeth with soda the first days at least. Rice fields or other obviously dirty lentic waters are no good place to cool feet or wash your hands.
With a little hygiene and following these rules, nothing should stand in your way to experience an unforgettable journey in Madagascar.