Zahamena:
Zahamena means "red trees", which hints at a tree species scientifically called Diatum unifoliatum. It occurs only in Zahamena and has a typically reddish-orange colored bark.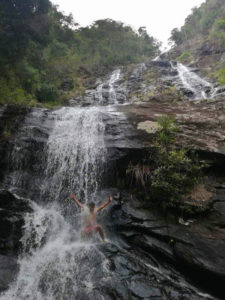 Location:
Zahamena national park is located in the northeastern highlands of Madagascar, in the region Alaotra-Mangoro. This area is famous for Madagascar's largest lake, Alaotra, which is about 25 km away from the park. The next city is Ambatondrazaka, which lays approximately 40 km southwest of the national park. From the capital Antananarivo, you need two to three hours by an all-terrain vehicle on RN2 until Moramanga. On Wednesdays and Saturdays, a train runs to Ambatondrazaka (from Moramangacirca 5-6 hours). As an alternative, you can head on RN44 with your 4×4 (takes just as long): Only two parts covering 20 and 30 km of the street are paved, in between is a 158 km long offroad slope. From Ambatondrazaka, you have to drive 67 km more offroad to the park office in Antanandava, and another 8 km to the park entry nearby Ankosy (about 4 hours drive). If you did not go by an all-terrain vehicle, you have to walk by feet approximately 6 km to Ankosy.
In total, the distance from Tana to Zahamena is about 350 km. Please plan at least one, better two days just for the journey to the national park, and take care to book a very experienced driver.
Information about the national park:
In 1927, the area around Zahamena was declared natural integral reserve. It spreads over 643 km³ of the mountain ridge that separates the east coast of Madagascar from the central highlands. Actually, only 423 km² of the whole surface is part of Zahamena national park. It was opened in 1997 and thus open for the public for the first time. The national park is divided into an eastern and a western forest, in the corridor in between are villages. In 2007, Zahamena was declared UNESCO world nature heritage.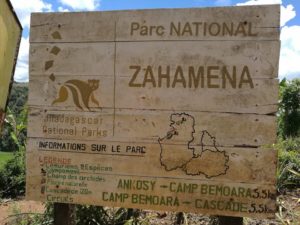 The tribes of Betsimisaraka and Sihanaka live around the park. For several years, sapphire mining has become popular close to the park. In 2016, the situation was pushed by a sapphire rush similar to the one in Ilakaka. Hence slash-and-burn agriculture, devastating grounds, and logging has increased even inside the national park's borders. Due to a lack of visitors and financial means, the protection of the park is unsafe.
Up to date, there exist only two circuits in Zahamena national park, both need at least one whole day or longer. The whole forests consist of canyons, rivers and steep slopes, so the majority of pathways are really exhausting and difficult to walk. Several kilometers behind Camp Bemoara, there is an 80 m high waterfall named Andranomitsanga, which is great to refresh yourself after a hike.
Climate:
Climate is tropical and humid, even during the dry season from April to October there is rainfall every day. Elevations inside the national park range from 250 to 1560 m, which has been resulted in a diversity of biotopes and climates. In higher elevations, camping at night may become rather cool with temperatures from 10 to 15°.
Infrastructure: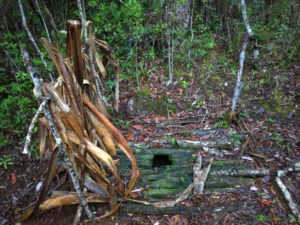 Unfortunately, there is practically no infrastructure in Zahamena yet. There are almost no visitors throughout the year. In Antanandava, there is a very simple, small guest house for a few tourists run by local people. There are no hotels, restaurants, or lodges around the national park. Accommodations in Ambatondrazaka cannot be used due to the long offroad drives to the national park. English speaking guides are rare – currently (2018), there is only one.
Inside the park, there is a Camp (Bemoara) at the river of Manambato, approximately 6 km away from the park entrance. It is a small clearing without electricity only equipped with a single pit latrine. If you want to camp here, you will need to carry all your equipment, water, and tents from Antananarivo to Zahamena. In Ambatondrazaka, you can at least buy charcoal and usual foodstuffs. All the equipment has to be carried on foot into the park. For small money, the local guides can organize village people who carry your stuff to the camp. A second rudimentary camp, Ranomitsanga, with a pit latrine and roofed campsite, is close to the large waterfall.
Fauna & Flora:
Zahamena is home to a breathtaking primary rainforest with similar biodiversity to the neighboured national park Andasibe-Mantadia. If you get over the obstacles to arrive in Zahamena, you will be rewarded with fantastic nature experience. Here you will meet no one inside the forest far and wide, and you can enjoy nature completely undisturbed. Alone 13 species of lemurs live inside Zahamena's rainforest, among them the largest lemur, the Indri (Indri indri), as well as diademed sifakas (Propithecus diadema) and black-and-white ruffed lemurs (Varecia variegata). Besides these, there is a secret nocturnal and few researched inhabitant of Zahamena: The hairy-eared dwarf lemur (Allocebus trichotis). Much easier to find are mouse lemurs and fat-tailed lemurs that even visit the camp at night.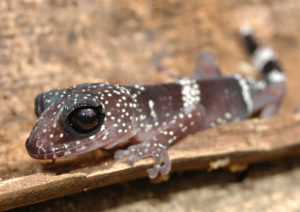 But Zahamena is especially famous for its bird kingdom: 112 species of birds live here, more than the half being endemic and occurring nowhere else than on Madagascar. Birds easy to watch are the blue couas (Coua caerulea), paradise flycatchers and omnipresent red-tailed Newtonia (Newtonia fanovanae). And Zahamena is richly equipped in other sections, too: Almost 50 reptile and more than 60 amphibian species crawl, croak and jump through the rainforest. Among them is the gecko Paroedura masobe, labeled by its conspicuously large eyes (Malagasy maso be). It occurs only in this forest corridor. Chameleons such as Calumma brevicorne and Calumma gastrotaenia are easy to discover, and the Malagasy tree boa occurs here, too. Even botanists will be completely satisfied here: 60 species of orchids are known from this national park, and the many palms, ferns, and mosses make a unique atmosphere.
In summary: Zahamena is not an easy rainforest – this national park needs bodily fitness and people with low requirements concerning accommodations. Everyone who is not discouraged by this, will be rewarded to expect an amazing rainforest experience in a location far away from usual tourist flows.