Especially in touristically heavily frequented places in Madagascar, it is impossible to imagine the street scene without them: Tuk-tuks. The bright yellow, small companions rush across the streets of islands like Nosy Boraha (St. Marie) and Nosy Be at a maximum speed of 40-50 km/h. They can now also be found in Toamasina (Tamatave), Toliara (Tuléar), Antsirabe, Ambanja, Sambava and other major cities.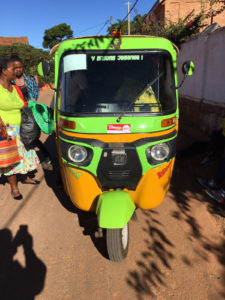 Tuk-tuks are motorised tricycles with open sheet metal cabins, which are covered to the rear with a tarpaulin at most. The two-stroke engine is hidden under the guest cabin on most models. In the guest cabin itself, two people can take a seat – with very slim people, maybe even three. Madagascans can also accommodate six or seven men in a tuk-tuk – often you are asked if another guest is allowed to board… and one more will surely find room! Behind the bench is a small area for suitcases or other luggage. The common tuk-tuks can transport a total weight of up to 500 kg. Officially. Unofficially, sometimes more.
Asian immigrants probably brought the Tuk-Tuk to Madagascar. Soon it became a bestseller. In Madagascar, those yellow vehicles even outstrip the traditional Pousse-Pousse in many places. They are quicker and more comfortable, but also economical and easy to repair. You can get spare parts everywhere on the island. And with 3-4 litres per 100 kilometres, those tricycles are rather economical, too. The most popular models in Madagascar are Piaggio Ape and Bajaj RE.
Many Tuk-Tuks are for rent for whole days to make some journeys – you always rent the vehicle including the driver. Prices depend on the length of your drive. There is no taximeter or fixed price. But like with taxis and Pousse-Pousse, we recommend to bargain the price before driving. The drive with a Tuk-Tuk may be a little bumpy, but it is really fun!