Madagascar's handcrafts are as diverse as the island itself. A speciality is the manufacturing of small cars, bicycles and planes from old cans and other recycling materials. One has made a real art out of this: Mamy from Antsirabe in the southern highlands. Since 1990, he produces miniatures of bicycles, Taxibrousse, Pousse-Pousse, Renault R4s and other motorized vehicles. His work is characterized by a genius attention to details that you will not find anywhere else on the island. With unbelievable skilled hands, Mamy creates a rim from an old can, drills tiny holes and links them with a nylon string that imitates spokes. An infusion line makes a small bicycle tire, old flip-flops become movable pedals. From old break cables he makes a bike frame, and it even has tiny breaks. Finally all miniatures are painted by hand and decorated.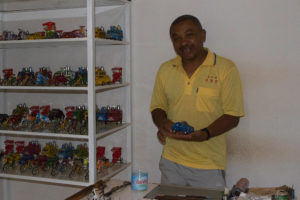 Mamy Harivelo Rajamason, that is his full name, actually studied nature sciences. But he could not find a matching job, so he decided to found his own workshop. In a small room he installed a work table and some benches so visitors can sit down and watch how the miniatures are made. In 1999, his wife Gina opened her own embrodery shop in another room of the house. She embroiders tablecloths, handkerchiefs and other tissues with Malagasy motives.
The way to Mamy is a little rough – but if you are looking for a unique souvenir, this is the place to be. All miniatures cost only few Euros and can be bought on working days from sunrise until sunset.
Adress
Miniature Mamy
LOT 02 G 200 Parc de l'Est
110 Antsirabe