Samboza are small, triangular pastries filled with meat, vegetables or cheese. You can get them in many Malagasy restaurants as snacks or in small boothes on the street. Mostly, they are served with Sakay or sweet and sour sauces. You may also use thin Wan Tans (Won ton) wrappers from the Asia shop.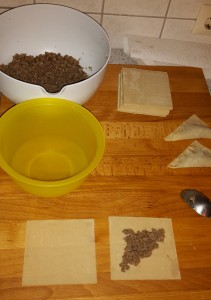 Ingredients:
500 g minced beef
two big onions
1 cm ginger
2 l oil
Pepper, salt and coriander
375 g flour
200 ml water
This is how it works:
Prepare a dough using the flour, 4 tablespoons of oil and 200 ml water and mould small square-shaped wrappers. As an alternative, put out the Wan Tan wrappers. Peel and finely chop onions and ginger. Fry both in a pan, then add the minced beef and bake until it is done. Season with pepper, salt and a little coriander.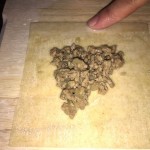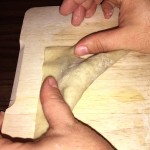 Put 2 tea spoons of the minced beef mixture on one wrapper. When using Wan Tans, moisturize two edges with water, close the wrapper around the filling and press the edges together. While preparing the Samboza, you can already heat up the oil in a big pot. It needs to become hot enough, otherwise the pastries will suck too much oil and remain soft instead of getting crispy. Cook Sambozas in oil until golden brown and crispy. Serve immediately.
Rezept drucken