Reniala:
The name means as much as "mother of the forest", which is the nickname of the baobabs endemic to this area.
Location:
Deep down at the southwestern coast of Madagascar, about 30 km away from the big city Toliara (Tuléar), there is the small village Ifaty-Mangily directly at the sea. You can reach it since 2016 via a well paved road, RN9,  in hardly half an hour. Several times a week, flights are running from Antananarivo to Toliara. Taxis or cars (always including a driver) can be rented in Toliara without a problem. The small, private reserve is located at the village exit of Ifaty-Mangily.
Information about the reserve: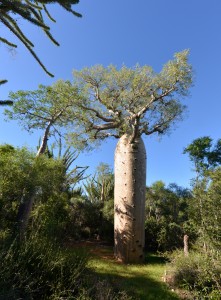 In 1997, a French-Malagasy cooperation had the idea to make a piece of land nearby Ifaty a protected area – the non-governmental organisation Reniala was born. The reserve was opened in 2001 as botanical garden, ornithological park and baobab forest. Meanwhile the spiny forest belongs to the last pieces of primary forests of the South. Nothing was changed here besides some carefully created paths inside the 0,57 km² area. For several years, there have been efforts to settle several groups of ring-tailed lemurs inside the reserve, financially supported by European organisations. The animals come from the Lemur Rescue Center of Reniala reserve, which was founded in 2011. It hosts confiscated animals, prepares them for reintroduction into the wild and thus is the first of its kind all over Madagascar, working close with scientists. To prevent people from keeping ring-tailed lemurs as pets or for tourists, the reserve's staff campaigns education in local population and tries to give people an understanding of ecotourism and species conservation. In 2018, the first group of ring-tailed lemurs was released in Reniala reserve, where they now roam freely.
Up to date, the reserve has 12 employers, among them four local guides who love to bring visitors in the park and explain native flora and fauna to you. Entrance fee is between 13.000 and 30.000 Ariary (5 to 10 €) per person depending on length of your visit and chosen tour (birds/reptiles/botanical). The paths are flat and well to walk, but don't underestimate the climate. Reniala reserve is open from 7.30 o'clock until 17.30 o'clock during rainy season and from 8 to 18 o'clock during dry season.
Climate:

The southwest coast is extremely hot, temperatures far over 30°C in the shade are usual. The dry season is short and brings only few rain. Due to the heat inside the reserve and few shady places, we do not recommend walks around middy. But if you like to see animals, you will see much more in the early morning either way. Please always bring enough water!
Infrastructure:
The area around Toliara is touristically well frequented. There are numerous hotels, shops, pubs and accomodations for everyone. Ifaty-Mangily also offers a lot of hotels and bars at the beach. For small money you can also rent a simple room at Reniala reserve in "Auberge de trois makis" (three lemur hostel) to stay some nights inside the spiny forest (max. 15 persons, reservation in advance is kindly requested). A small souvenir shop is located next to the main house of the reserve.
Flora & Fauna:
In Reniala reserve, you can admire many endemic plants of the spiny forests, among them countless Didieraceae, the famous baobabs (Adansonia rubrostipa), Pachypodium, Euphorbia and other outstanding growths. The biggest baobab of Ifaty stands here – local people fondly call it "tea pot" due to its appearance. It is told to be 1500 years old and up to date has an impressive perimeter of more than 10 metres.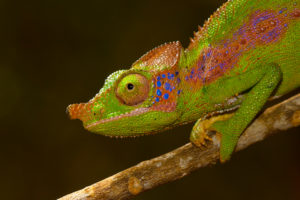 As ornithological park, the reserve offers plenty opportunities to discover and watch animals especially for bird lovers. With a little patience you can for example see the Madagascar harrier-hawk (Polyboroides radiatus) or find the sickle-billed vanga (Falculea palliata), the white-headed vanga (Artamella viridisa) and Madagascar buttonquail (Turnix nigricollis) in their natural habitat.
Furthermore, Reniala is home to many reptiles only occurring in Madagascar's south. A big population of the rare Radiated Tortoise and the smaller Spider Tortoise (Astrochelys radiata and Pyxis arachnoides) lives on the sandy ground and shares its territory with many Madagascar Iguanas (Chalarodon madagascariensis). In spring, you can find colorful chameleons (Furcifer antimena and verrucosus, less often Furcifer major) in bushes and shrubs and one or another snake (Acantrophis dumerili, Leioheterodon geayi) will perhaps cross the visitors' path.
Since Reniala is a private reserve and not a national park, guided nocturnal walks can be organized to meet the smallest mammals of the park: The mouse lemurs (Microcebus murinus and griseorufus).
More worth readable about this topic: