Nosy Mangabe:
The Malagasy words manga be mean as much as "very beautiful" (which the island is, no doubt) as well as "very blue" or "a lot of mangos".
Location: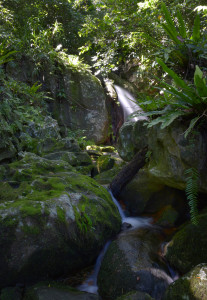 Nosy Mangabe is the island of your dreams, laying a few kilometers southeast of Maroantsetra in Antongil Bay. You can reach the island via a motorboat from Maroantsetra in less than one hour. In Maroantsetra, there is also the office of Madagascar National Park. This is where you can announce your visit, organize a boat as well as a local guide, and pay entry fees. The best way to reach the city is by airplane because the land route has been hardly drivable for years.
Information about the special reserve:
With its around eleven kilometers of length and 5,2 km² in size, earlier the island was settled by pirates and today some remains still bear witness to them. Since 1965, Nosy Mangabe is a special reserve and part of Masoala national park. Various hiking trails with different levels of difficulty lead through the island and can be walked accompanied by local guides. Whereas the ascent to the highest point of the island is quite exhausting, the flat and broad paths parallel to the beach and around the camp are easy to walk for everyone. It is even possible to visit the old lighthouse and the old graves of Nosy Mangabe.
Climate:
The whole year round, Nosy Mangabe has enormously high humidity. Additionally, it is very warm, even at night temperatures do usually not drop under 20°C. During the cyclone season from December to February, it may happen that visits are forbidden due to the rough sea.
Infrastructure: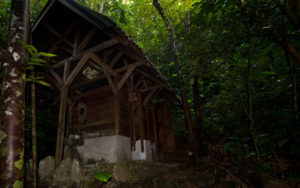 The island is completely covered by rainforest, and there is a beautiful golden-colored beach on the west side. This is even where the campground, a house for the island guards including a small kitchen and sanitary facilities (shower, WC) with running water (no electricity) are located. You have to bring all your food, drinks, camp stove and other equipment from Maroantsetra. A small waterfall is only a few meters away from the camp. So who wants to take a shower in the open air is welcome to do there. Staying overnight is only possible with your own camping equipment, but along the beach, you will find some wooden roofs for more camping comfort.
Flora & Fauna:
Nosy Mangabe is famous for the occurrence of Aye-Aye (Daubentonia madagacariensis). The reserve was originally founded to protect them. Unfortunately, night walks have been forbidden in Madagascan national parks for some years, so you will not see these nocturnal lemurs. But instead Nosy Mangabe offers a wealth of other endemic animals you will surely meet during the daytime. For nature lovers, this is a real island of dreams and offers amazing wilderness experiences. Black and white ruffed lemurs (Varecia variegata) and white-fronted lemurs (Eulemur albifrons) live on the island, too. Small mouse lemurs can be watched even directly on the campground in the evening.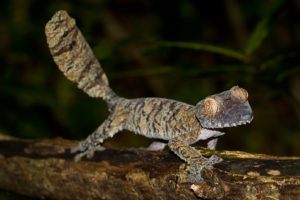 Nosy Mangabe is the word for word a real paradise – not only for lemur and reptile friends. You can relax on the golden-colored beach under trees at the sea or explore the unique, moss and fern covered rainforest looking for geckos, chameleons, snakes and frogs. From Madagascar tree boas (Sanzinia madagascariensis) to countless beautiful frogs (among others Mantella laevigata), bright colored crabs, and day geckos or pintsized pygmy chameleons (Brookesia peyriasi) or bigger, colorful panther chameleons, nothing leaves to be desired here. Nosy Mangabe is especially known for the biggest occurrence of leaf-tailed geckos (mainly Uroplatus fimbriatus) throughout Madagascar. There is no other place you can find these fascinating lizards as easy and as often as on this island. By day, they hide perfectly camouflaged on branches, and in the night they become active searching for insects. In August, you can watch humpback whales from the island. Each year, they come to Antongil Bay to bear their babies. This is why Antongil bay is often called "the cradle of whales".