Nosy Komba, in English Lemur Island, is the nickname of a small island in the canal of Mozambique on Madagascar's northwest coast. It belongs to the Diana region and is only a few kilometers from the nearest village on land, Ankify. From the port of Doany, it takes about twenty minutes by motorboat across the sea, from Nosy Be it is a similar distance.
With a diameter of eight kilometers, Nosy Komba is Madagascar's second-largest volcanic island after Nosy Be. Its original name is Nosy Ambariovato, which means "surrounded by many stones". Seen from above, Nosy Komba is circular, which is due to the fact that the island was originally a volcano and still is. However, it has not been active for centuries, and so there are now a whole series of small villages with a total of around 4000 inhabitants. The people here are Sakalava and live mainly from fishing and tourism. The largest village on the island is called Ampangorina and is the hub for visitors, who come mainly from Nosy Be. Even from a distance, you can see sheets and decorative tablecloths blowing on linen in the wind – they are made by hand in any kind of finish on site. Lots of huts and stalls offer souvenirs – along some paths on Nosy Komba you feel a bit like in an oversized souvenir shop.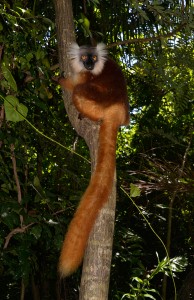 Nosy Komba is especially famous for his eponymous black lemurs, which have become extremely trustful through constant feeding – if you have fruit in your hand, some animals jump on the visitor's shoulder. Unfortunately, the population is very small and isolated, which is why many of the black lemurs now show inbreeding symptoms such as blindness. The entrance fee to visit the lemur area costs about 4,000 Ariary (1-2 €) and is currently being converted into a kind of zoo with secondary vegetation. Only about 0.6 km² of the island are remains of primary forest and officially protected area. The highest point of Nosy Komba at 621 m above sea level – a hiking trail leads to the holy (fady) peak Antaninaomby. The tour takes four to six hours, depending on how fast you are in the warm climate. Since 2013, the so-called Maki Run has been held annually in July. Runners who want to let off steam in the tropical climate can cover distances of 18 or 30 km here.
Vehicles, also zebu carts, one searches in vain on Nosy Komba. If you want to explore the small island, you have to go on foot. Some very simple to good, small accommodations offer overnight stays on Nosy Komba. Directly at the sandy beach, you can enjoy the sun and let your soul dangle. On the inland side, along a small reef, you can dive and snorkel between colorful fish and over the sole. There is no diving school on Nosy Komba itself, but equipment and dives can be booked on the neighboring island of Nosy Be.
Mehr Sehens- und Lesenswertes zum Thema: