Antsirabe ("where there is a lot of salt"), is located about 170 km south of the capital Tana in the highlands in the province Antananarivo. It is easy to reach via the RN7. Antsirabe is one of Madagascar's largest cities with over 200,000 inhabitants and a lot of sights.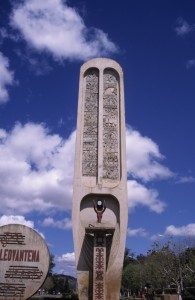 Economically Antsirabe is one of the most important cities in the south with the largest textile factory in the country, an (unused) airport, as the former terminus of the railway line from Tana via Toamasina (Tamatave) and the famous Star Brewery (where the famous Three Horses Beer, THB for short, is produced). The only Malagasy training center for doctors of medicine is also located here. Antsirabe has thermal springs that nicknamed the city "Vichy of Madagascar" during the French occupation. Many buildings in Antsirabe date back to the beginning of the 20th century, such as the Hôtel des Thermes of 1922 or the train station of 1923, with an infinite number of Pousse-Pousse between old and new houses, which have now become something of the city's secret landmark.
Antsirabe is famous above all for its gemstone workshops, in which raw gemstones are cut and processed into beautiful pieces of jewelry. In the two larger markets of the city, Antsenakely and Asabotsy, you can buy fruit, cooked and baked delicacies as well as small tin toy cars made from old car parts and other collected metal scraps. These lovingly painted and elaborately handcrafted cars are a source of income for many locals. Those who prefer to stick to the sweet side of life will surely find what they are looking for in Marcel's candy workshop. There you can not only watch how delicious sweets are made by hand, but the visitor can also try the results right away and take them with him. For relaxation from the turbulent city life, there are three lakes of volcanic origin, of which Lac Tritriva is probably the best known.