For those who have a sweet tooth, Antsirabe in Madagascar's southern highlands has a special adress for you. 170 km away from the capital Tana, there is a small house in the west of the city, with a candy workshop called "Chez Marcel". It has no shop windows, only a sign shows you the right way. Marcel, the owner of the small shop, is one of few confectioners in Madagascar, who still knows the handicraft of producing bonbons.
For 20 years, he has been doing this job, and meanwhile has achieved a good reputation in the country. Back then as well as today, Marcel manufactures all sweets by hand following old recipes. He is specialized in classic bonbons. The steel racks of his small shop offer red, green, yellow and brown bonbons in many flavours.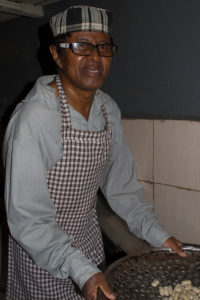 Visitors can also have a peek over Marcel's shoulder during work: In a small, half-tiled room, you find his bonbon kitchen. The basic mixture consists of 10 kg sugar, 3 liters water and a little lemon juice. The mixture is put into an aluminium pot and heated above the fire in another room, completely black with soot. The perfect temperature ensures the right consistency for the lalter bonbons. The hot mass is checked with a thermometer hanging from the ceiling, and then poured out to an old, oiled granite plate. This is the time when colour and taste come into play: While the bonbon mass hardens by and by, Marcel has to mix in all additions and process the sweet mass with a spatula. The whole procedure needs to be really quick and Marcel needs experienced hands – otherwise you only get a shapeless, rock-hard chunk. Depending on the final shape of the bonbons, now the mass is pulled into long strands and cut by a cord or scissors – or pushed through an ancient, cast-iron press.
By the way, Marcel and his staff still welds every small sachet by hand above a chandle, like they did decades ago. Here, they do not have mass production. You can visit Marcel's from 07 a.m. to 4 p.m. on workdays. For a small donation, he demonstrates you how to make bonbons. And only very few visitors leave the shop without taking at least two or three bags of sweets with them.
Adress
LOT 11 16K385, Ouest de la voirie
Antsirabe