Marojejy:
Marojejy national park is one of the most biodiverse and most beautiful of Madagascar, but also one of the most challenging national parks. A paradise for "advanced travelers"! The Malagasy words maro and jejy have several meanings, including "many stones", "much rain", but also "many animals" and "full of the ancestors' spirits".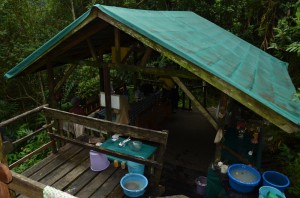 Location:
Marojejy national park is located in northeast Madagascar on the sacred mountain's slopes of same name inside Sava province. The "capital of vanilla", Sambava, is about 60 km eastern to Marojejy. From there, a street passing the national park reaches to Andapa in Madagascar's northwest. Due to its isolated location and lack of infrastructure, it is quite challenging to travel to Marojejy national park. The one and only safe way there is flying from the capital, Antananarivo, or Maroantsetra to Sambava and continue from there via car (relatively good road condition from Sambava until park office). The overland road from Ambilobe to the East via Vohémar at northeastern coast and then further on to Sambava mainly consists of dirt tracks, which are hardly drivable. Periodically, this route is not drivable at all and lots of unforeseen events (broken bridges, sloughs and swelling rivers after rain) discourage any traveller from trying this way.
Informations about the national park:
In 1948, Prof. Henri Humbert from Museum of natural history, Paris, visited this beauty spot. He was so overwhelmed of flora and fauna, that he dedicated his book "marvels of nature" to Marojejy. To his hustle and pressure, the area got protected four years later, so he is the origin founder of Marojejy national park. Since then, a visit was only possible for scientifical purposes and not for private people or tourists. Since 1998, Marojejy is one of Madagascar's official national parks and therefore open to the public again. In 2007, Marojejy was declared UNESCO nature heritage.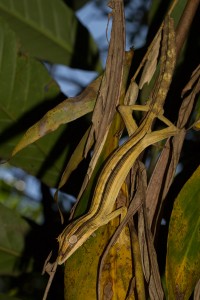 The national park has a size of about 600 km². Its highest peak is of about 2100 m altitude, which is one of the highest leveled parks in Madagascar. In Marojejy, you can find everything and each climate zone from the deepest rainforest up to the highest mountain forest. Different hiking trails straight from the camping ground can last up to several days. An experienced local guide should always be at your side! Lots of rivers and creeks, waterfalls and altitude difference make a journey to this national park really challenging, but also an amazing experience for nature lovers. Certainly, Marojejy isn't easy to visit!
Nowadays, the national park's threatened by Tsihimety living around the park and some mafia-styled structures, too. Similar to Masoala national park, illegal logging of precious wood and slash-and-burn becomes more and more – and can hardly be stopped.
Climate:
As most areas of northeastern Madagascar, Marojejy's weather is dominated by tropical humid warm climate. In winter time, the highest peaks of this national park can freeze at least. In summer, normal temepratures reach above 30°C nearly daily, it's raining every day. This humid and hot climate is exhausting for visitors, so you should be in quite good condition to come to Marojejy.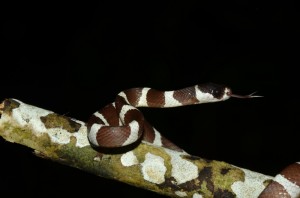 Infrastructure:
The environment of the national park only has two small hut villages, which offer no quarters. The park office is located directly next to the street, this is the place to pay entry fees and get local guides. From there you need to go by feet about 6 km to reach the park entry. The road by itself isn't that hard, but it's extremely hot in the savannah-like environment between rice fields, rare shadow and high humidity makes it really exhausting.  Arriving at the park entry, you still have to walk about 4 km to Camp 1 (Camp Mantella), and another several hours extremely exhausting and challenging walk up to the higher Camp 2 (Camp Marojejya). Mere the last single kilometer conquers 450 m altitude! The highest placed Camp 3 (Camp Simpona) can't be reached in one day by most travellers, although it's "only" few kilometres to next camp below. But pathways are really small, steepy and rough, very slippery during rain and several streams have to be passed. Partly you even have to cross steepy slabs of rock, only secured by ropes. The combination of the hard trail and hard climate makes sure you only succeed in this task with good condition and stubborn will. But the breath taking sight and a camping ground right in the middle of primary rainforest compensates every effort, bruises, leeches and countless mosquito bites.
All three camps have fire places, water taps and rustic sanitary facilities. There are few huts of wood and plastic sheets available, but due to constantly high humidity, it's more comfortable to bring your own tent. At the park office, porter from the village can be organized for little money to carry all your luggage up to your desired camp. And be sure, the porters used to this climate will be much faster than you!
Flora & Fauna:
Marojejy's flora caters for all tastes from the 50 m high jungle giants down to tender orchis: About 275 different ferns, around 300 epiphytes and 50 palm tree species make this spot unforgettable and magic. The list of occuring life forms is endless here, and lots of plants and animals aren't described yet at all.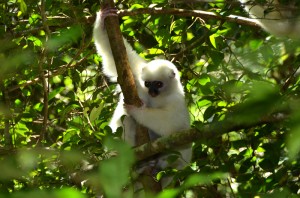 Marojejy is the last habitat of the extremely rare and critically endangered Silky Sifakas (Propithecus candidus) who are called "angels of the forest" due to their long, white fur – and of course it is the home of 10 more lemur species -. These Silky Sifaka belong to the 25 most threatened animal species worldwide. To meet them, you need to have a good guide and a whole day climbing cross the forest – but an encounter with this last creatures of their species is unforgettable. The little less rare Aye-Aye can be found from time to time between the thick green at night, too. Everyone who meets this rare, bizarre appearing troll of the forest face to face once in his  lifteime, can consider oneself really lucky. Bamboo lemurs (Hapalemur occidentalis) are much easier to see and often come very close to the camp grounds. Other lemurs can be watched closely during hikes.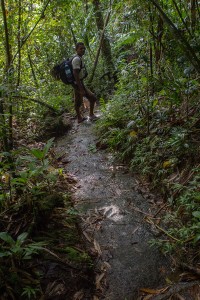 A challenge for bird photographers is the helmet vanga, which lives inside the rainforest, too. He's symbol and mascot of Marojejy national park at same time. Inside the foliage down on the ground on a very tiny, special place, you can perhaps discover Brookesia vadoni. This is a unique, colourful, tiny and spiny pygmy chameleon species, which is rarely photographed until now.  Frog friends will enjoy countless, colourful Mantella and other frog species, which croak loudly at night and are easily to find even at daytime.  Marojejy is also home of the biggest leaf-tailed gecko, Uroplatus giganteus, and his next relative, the amazingly camouflaged Uroplatus lineatus.
Alltogether around 120 bird species and about 150 amphibian and reptile species populate Marojejy and build an unique, marvelous background for excursions. An incomparable paradise, which maybe won't last the next decades.