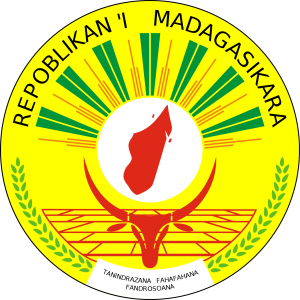 Madagascar's current seal was designed in 1993 and has been in use in this form throughout. It shows the outlines of the country in red color within a white circle, below is a stylized zebu head on an equally stylized rice field. The silhouette of the country is framed by the leaves of the travellers' tree. The zebu and the rice fields represent the two most important food and economic resources of the Madagascans, while the tree of travellers emphasizes the uniqueness of the country and its high biodiversity. Everything is located on a bright yellow background, and is framed by the writing Repoblikan'i Madagasikara, which simply means Republic of Madagascar.
At the bottom of the seal are the words Tanindrazana – Fahafahana – Fandrosoana, which in English means homeland, freedom and development. As Madagascar continues to claim pro forma sovereignty over the nearby islands of Grande Glorieuse, Ile du Lys, Roches Vertes and Tromelin, the islands are shown in the seal of the country next to the Malagasy map.
The first Malagasy seal was introduced with Madagascar's independence in 1958. It was simply green and already showed the zebu, the travellers' tree, the motto and two ears of corn. From 1975 to 1992 socialism ruled the island, and the seal was changed accordingly. Zebu and Tree of Travelers were replaced by socialist-communist symbolism in the form of the red star, the red rising sun and the three arrows, for example. The motto was also renamed Tanindrazana – Tolom-Piavotana – Fahafahana, to English homeland, revolution and freedom. With the departure from communist models in 1993, the seal also changed and went back to its original symbolism with zebu, tree of travellers and ears of corn. The silhouette of Madagascar was added and the rice field, the motto became Tanindrazana – Fahafahana – Fahamarinana, translated as home country, freedom and justice.