Antsirabe, one of the largest cities in the southern highlands of Madagascar and only 170 km from the capital Antananarivo, is not only known for its thermal springs. Antsirabe has been a meeting place for gemstone dealers and jewellers for years due to the numerous sapphire mining areas a little further south.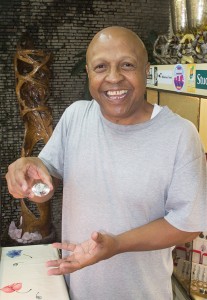 If you are looking for a special gemstone or a new piece of jewellery, take a look around in the old town at "Chez Joseph". Besides petrified rosewood and countless ammonites you can admire almost all gemstones in raw and processed form that can be found in Madagascar: Labradorites, rose quartz, amethysts, celestines, tourmalines, rubies and many more – and of course sapphires in all colours of the rainbow. Solitaire games with precious stones, cut figures and stones are also available in several exhibition rooms.
Joseph, the eponym of the business, brought his workshop with artistic gemstone cutters to some fame in Antsirabe decades ago. Unlike most men in the gemstone business in Madagascar, Joseph himself is Madagascan, but no longer in business today. His son, who also calls himself Joseph, continues it today.
The small shop only sells stones and jewellery cut and manufactured by the company itself. Joseph is also happy to accept commissioned works such as the setting of certain stones or the processing of existing pieces of jewellery. Until the political crisis in 2009, visitors could take a look at the grinding shop and workshop every day, unfortunately this is currently only possible on request.
Chez Joseph is open from Monday to Saturday from 8 am to 12 noon and in the afternoon from 2 pm to 4 pm, on Saturdays only in the morning. Remember that you need certificates for many valuable gems in order to be allowed to take the pieces home – here you will receive the appropriate documents made out on request.
Adress
Rue Kléber
LOT 12 C-80
Antsirabe 110