Anja Community Reserve:
The reserve is named after Anja Miray Association, its nickname is "Anja Park". Due to its rocky character, the reserve is also known as "Rocky Park".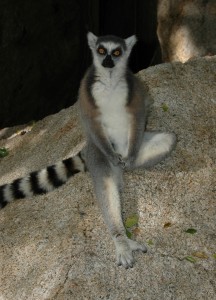 Location:
About 13 km south of Ambalavo, you can find Anja Community Reserve in the region of Haute-Matsiatra. Via RN7, one can easily reach it by car, it is only half an hour away from the village and always worth a trip. From Antananarivo, you need to drive at least nine hours by car (around 480 km). It makes sense to visit for example the cities of Antsirabe and Ambositra on the way and sleep one night there.
Information about the reserve:
In 1999, Anja Miray Association was founded as answer to progressing destruction of Malgasy nature. Until then, more than half of the orignal forest which once covered the region had gone due to slash-and-burn-agriculture. The lack of forestation was cause for erosions and water shortages in the villages. In 1996, a group of young people near Ambalavao decided to muster all their courage and conserve nature. With help of Malagasy government and financial help by foreign organisations (e.g. WWF and EAZA) they cared for using only certain areas for cultural landscapes, reforest the area and educate people about ecotourism. The engulfed area is actually only 0,3 km² The rocky landscape mainly consists of granite, and is located at the feet of the "three sisters" (telo mirahavavy), a nearly 500 m high rock formation. For centuries, the Betsileo tribe used many of the canyons and caves as shelter, and until 1930 years for graves of important personalities, too.
Besides ecotourism, Anja Community Reserve cares for building primary schools and health centres in the surrounding villages, malaria prophylaxis for people, education for women and supports orphans by paying school fees. By now, they even founded a trust to support people with little money after unforeseen events like bush fires. An eucalyptus tree nursery shall prevent people from cutting endemic plants for fuelwood. The reserve itself is looked after by guards and succumbs stringent use regulations.
Nowadays, about 2500 people earn their money from different Anja Reserve projects. This way it belongs to the up to date few role model projects where local people save nature sustainably. In 2012, Anja Community Reserve therefore gained the Equator prize, a sustainable development and environmental award including prize money of 5000 $ of the United Nations.
Two trails of two until six hours distance can be hiked with local guides inside the reserve. For the longer one you should like climbing a little (but no worries, there's no need to bring climbing equipment, just remember to wear good shoes). Entrance fees are about 20.000 to 25.000 Ariary (about 7-8 €) per Person depending on chosen route, your guide costs from 45.000 Ariary (15 €) for the short trail.
Climate:
During daytime, temperatures reach 25°C which feels quite comfortable. Often a cool breeze is there. In the night, especially during dry season climate can become colder: Ambalavao is said to be Madagascar's coldest city with temperatures lower than 10°C in the night.
Infrastructure:
Ambalavao is located directly at RN7 which is the touristically most frequented road of Madagascar. Besides a lot of markets worth seeing, the city offers various hotels, chambers or simple accomodations. Restaurants and small grills on the street care for your lunch and diner. From Ambalavao, you can easily drive to the reserve via taxi or Tuk-Tuk. The reserve itself has no accomodations.
Flora & Fauna:
Although the area is relatively small, it today offers a home again to the famous ring-tailed lemurs (Kattas), big Dumeril boas and five other snake species, several chameleons (among them Furcifer campani, the carpet chameleon Furcifer lateralis and the only here occuring Brookesia brunoi), several birds and other animals worthy of protection. The lowland streakend tenrek, a rare inhabitant of Anja Community Reserve, is a lot more diffcult and seldom to watch. The ring-tailed-lemurs of the park are used to humans and usually come very close to visitors, which makes the reserve a little attraction to travellers from all countries.
Adress and website of this reserve:
Anja Miray Community Reserve
B.P. 29
Ambalavao 303
Website
(Unfortunately without up to date prices !)