Right in the middle of Antananarivo, in an inconspicious side street, there is an own small world: "Le village" which means as much as "the village". It is a row of workshops where they construct high-class true to scale ship models. For sure, you can find wood carving workers everywhere all over Madagascar – but ships of this outstanding quality you will only find here. In 1992, French Hervé Scrive and his wife Nadine laid the foundation for the workshops in Ambohibao. Hervé had been working in ship model business since 1985, but then decided to open his own workshop in Madagascar. In 2013, the "village" was handed over to another French couple named Salabert.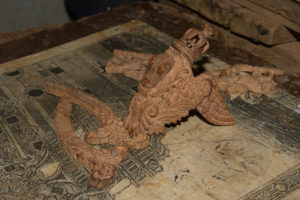 Today, about 30 people work here, many of them have been in the staff for more than 10 years. All ships are hand made during months of elaborate and careful work. It all begins with certified local precious woods, among them mainly rosewood. The original construction plans of the ships – the workshops holds the exclusive licenses for Belem, Hermione and Pen Duick – help to create templates for sawing all boat parts. A whole room is almost filled only by templates. To shape the wood, the workers have to warm it up by the fire and then bend it skilfully into the right position. One too quick movement and the wood will break! If every wooden part is shaped, the basic framework will be assembled and glued. Then workers treat the wood with linseed oil and bee wax – they try to waive artificial coatings if possible. Afterwards, it is time for the details: Figureheads, cabins, small wooden decoration parts and emblems are carved by hand. Small cannons, trapdoors and hand-turned shipload such as barrels and crates get their places on the ship models. By and by, these details breathe life into the ships.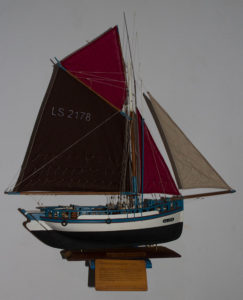 In another workshops, metal artists weld small rails from copper wires or tiny anchors. After all wood and copper details have been finished, the ship comes into the painting workshop. This is where they paint and letter it, all in original colours. The finished boat hull then wanders into the last house. Especiallly skilled workers are busy to mount the rigging, sewing appropriate sails and installing tiny ropes true to the originals. If you unwinded all ropes and set sails, the rigging would be fully functional. To make the seals in historic vessels look old, they are dyed with tea.
An average ship needs five to six months before leaving the workshops finally. Per year, the "village" is able to produce about 350 models thanks to its skilful workers. Each ships is certified and becomes a part of the show room – or is directly delivered to its customer. Beside historic vessels such as Captain Cook's Endeavour or Lieutenant Blighs Bounty, they also have fantasy ships such as the Black Pearl from Pirates of the Carribean. Additionally, they offer modern yachts and sailboats or liners like the RMS Titanic. If you get enthusiastic about nautics, you will love the hand-made world and sea charts as wooden tables.
Even if you never were into ships, you will be completely astonished by these workshops. During the week, they are open from 8 to 16 o'clock, visiting is for free. The show room is open upon requests even on Saturdays. The workshops are located not far away from Ivato airport, which means it is a great idea to drop in before your flight home. Prices of small ship models start from 250 €, larger or extremely detailed ships may be in the four-digit levels. By the way, it is no problem to send or carry these masterpieces. The workshop produces matching wooden boxes for each single ship. And they fix your ship so well inside that it even survives baggage tags in European airports. And just for those who do not succeed in visiting Madagascar personally: You can find ships from Le Village in selected shops of Paris, Lyon (France), Switzerland, Austria, Canada and Australia.
More information:

Adress: LOT 036F Ambohibao, Antananarivo 101
More galleries in Madagascar:
48 Rue Colbert in Diego Suarez
Immeuble Aro in Hellville on Nosy Be