Telephone and mobile networks
The telephone network in Madagascar is increasingly being expanded but is still inadequate in many places. The international prefix for Madagascar is 00 261, followed by a two-digit access code, depending on which landline network you want to call. This is followed by the two-digit regional area code and the actual five-digit landline number. The fixed network is mainly operated by Telma and Airtel (formerly Zain, previously Celtel, and previously Madacom). However, most Madagascans use the mobile network.
| Zugangscode | Anbieter |
| --- | --- |
| 32 | Orange |
| 33 | Airtel |
| 34 | Telma |
The expansion of the mobile communications network is currently being driven forward, and more and more antennas are being installed. Even in many national parks, there is now a mobile network. Larger cities do always have a mobile phone network, smaller towns, and villages, and more remote regions do not.
If you want to make calls from Madagascar, it is best to buy a prepaid card from a Malagasy provider. Telma, Orange, and Airtel are the largest providers. A SIM card from Telma, for example, can even be purchased directly at the airport on arrival. A normal card costs about 3000 Ariary (about one Euro), a Nano-SIM 5000 Ariary (less than two Euro). With the prepaid card, you acquire your own Malagasy mobile phone number. The cards are loaded with so-called "credits", which can be purchased at any gas station, in hotels and restaurants, or at many small street stalls. If you do not use the prepaid card for three months, it expires automatically and the number is assigned to another card. It is therefore unfortunately not possible to reuse the prepaid card from the previous year in the next Madagascar holiday. There are credits worth up to 60,000 Ariary, credits for 10,000 Ariary are common. If you need a lot of data volume, you can now also take advantage of the so-called "credit transfer", which allows you to load up your prepaid card directly on the spot in small shops on the street or in "taxiphone" shops.
Internet
Internet is not widespread in Madagascar – only 2% of the population had constant access to it in 2012. There are only a few broadband connections in the capital Antananarivo. In the whole country, only 0.05% of the people own one at all. Even by European standards, connections are expensive, unreliable, and simply not affordable for most people. In rural areas, the Internet is often not even known.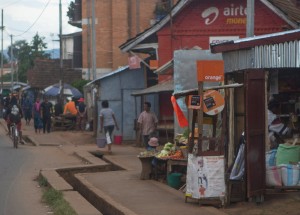 Meanwhile, Madagascar has been connected with a few undersea cables to international cable networks. EASSy connects Europe with Madagascar, Lion connects Madagascar with La Réunion, Mauritius and Lion2 connects to Kenya. Ravenal is the latest submarine cable and lies between Europe, La Réunion, and Madagascar. It connects the island to the so-called SEGANET (submarine extended gateway network of the Indian Ocean). Internet connections for consumers are ultimately only advertised by Telma (DTS), Moov, and Gulfsat (Blueline).
The laying of better pipes in Madagascar itself is repeatedly hindered by the theft of building materials. Hotels and lodges in particular, as well as some Internet cafés currently have Internet access, and many now also offer WLAN (French Wifi). However, the connections are very slow and if you want to be reachable outside, you have to use a mobile network.
The top-level domain of Madagascar is the extension".mg". You register domains with this extension with the Network Information Center (NIC).