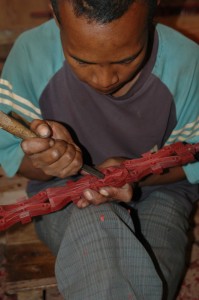 Ambositra in the region Amoron'i Mania is a big city with about 30.000 inhabitants. It is located around 180 km South of the capital Tana in Madagascar's highlands, directly at RN7, which means you can reach it well via car.  The city is famous for its numerous woodcarver workshops, of which you can visit many and look over the shoulder of the artists during their work.
In the area around Ambositra and inside the city itself, there lives the Betsileo tribe. One group belonging to Betsileo are the Zafimaniry, who have been earning their lives from woodcarving ever since and nowadays still mainly do so. Originally, the Zafimaniry are said to descend from people who fled into the forests from the cruel queen Ranavalona I. This way they could not be obliged to toil at court as slaves or serfs. Today, about 25.000 Zafimaniry live in the highlands of Madagascar around Ambositra, and maybe one hundred traditional villages still exist in the last remans of the former forests. Sadly, slash and burn agriculture has destroyed a major part of the Zafimanirys'space to live forever. Their most important city nowadays is Antoetra, a village with about 1000 inhabitants, which is located approximately 40 km south of Ambositra.
For centuries, the small people has been known to build their houses completely of wood, which is only treated by hand and simple tools. Nails or screws aren't used, everything is plugged together and made fit into each other part skillfully. Doors, windows and jambs are often elaborately beautified with traditional carved motives. The huge rice pots you can buy everywhere in Ambositra, are also part of Zafimaniry culture (although many of the carvings on pots are just added for tourists). In 2003, the wood carving art of Zafimaniry was admitted to UNESCO's "masterworks of oral and immaterial heritage of humanity", which commits the Malagasy state to protect and preserve these time-honoured traditions. But all this cannot belie that the essentials of this small people, their forests, have disappeared almost completely from the highlands during the last 50 years. Today, the wood for the carvings is mainly brought from other regions of Madagascar.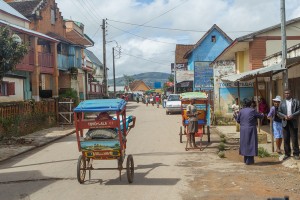 In Ambositra, numerous workshops have settled to work and carve wood the Zafimaniry way. You can purchase almost everything here: Figures, bowls, pots, masks, statues and wooden boxes are only a small extract of the many proposals. Among travelers, the carefully put together tabelaus and boxes made of uncountable tiny wooden pieces, showing "Tintin et Milou" in the end, are most admired. You can visit many workshops for small money and some even offer demonstrations how to manufacture inlay art, wooden frames or masks. Directly in the workshops, travelers can also commission own ideas – just bring time for this, because usually it takes some weeks for your personal artwork to be finished.