The Emerald Sea (French Mer d'emeraude) is a paradisiac lagoon at the entry of Antsiranana (Diego Suarez) bay at the northernmost tip of Madagascar. The name traces back to the turquoise, crystal clear, shallow water of the lagoon. The lagoon has a length of approximately 12 kilometers and is only three kilometers broad. A large coral reef and several islands protect it from the rough waves of the Indian Ocean. In this place the coral reef is largely untouched and thus a paradise for all kinds of fish, rays, sea cucumbers and sea turtles.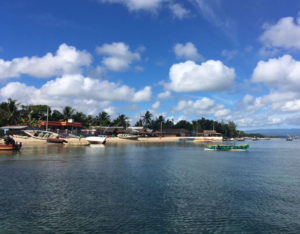 From Diego Suarez or Ramena, you can organize a day trip to the Emeral Sea for small money. Depending on providers, you should expect prices of about 60.000 Ariary for a whole day including the boat trip, lunch and drinks (about 15 $). The small wooden boats or pirogues with simple sails will drive you to the sea and cross the huge bay of Diego. You will stop at lonely, deserted beaches or sometimes directly on the islands of Antaly Be, Nosy Diego or Nosy Suarez. The boat trip to the Emerald Sea takes about one hour from Ramena or Diego. Usually you have the beaches all to yourself, only very rarely you will meet other travelers here. The deeply turquoise coloured sea invites you to swim. The water has more than 25°C all over the year. And in most cases, you will get a delicious lunch with freshly catched and grilled fish, accompagnied by the traditional Sakalava coconut rice.
Thanks to the steady east wind called Varatraza by the Malagasy people, the Emerald Sea is an insider tip for Kitesurfing. From April to October, which means during the dry season, is the best time for Kitesurfing. You can book trips including equipment from Babaomby peninsula or from Ramena. Even Scuba diving is possible – the Emerald Sea has an activity for everyone. Passionate anglers can learn line fishing from traditiona fisher men, too. Just be sure to take enough sun cream with you, in best case bring a lot of it. But then have fun an enjoy your day in paradise!