As a traveller, you will rarely see, but surely recognize it once seen in Madagascar: The Karenyi. A bulky car, reminiscent of some kind of mixture between a kubelwagen and a colourful soapbox. It could even be part of the ideas of someone producing Lego toys normally. But behind this bizarre vehicle hides a true Malagasy story.
In 1984, the gouvernment institue for innovations (Institut Malagasy de l'innovation, abbreviated IMI) founded the Karenjy company based in Fianarantsoa, in Madagascar's southern highlands. Then president Didier Ratsiraka was prime mover to establish the first workshop, Fiarafy. Karenjy became the first automobile manufacturer all over Africa to produce cars from conception to construction completely at the red continent – and it still is the only one. The aim of the company always was to produce a car geared to the needs of the Malagasy people: Tough, sturdy, able to go cross-country, not prone to repairs, carefree, no luxury; but mainly it should drive and make people arrive safe and sound where they want to go. Electric windows, central locking systems, navigation systems or airbags do not belong to a Karenjy's equipment – even if the manufacturer still says today the production would maintain "European standards".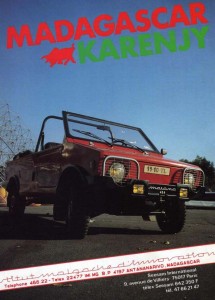 The name Karenjy in English means a much as promenade or stroll. A zebu, the secret emblem of the island, embellishes the company's logo. Long ago it had become the nickname of the car, too. In the 80ies, Karenjy produced three car models: The Iraka (translated ambassador), the Mazana (translated tough, powerful, common) and the Faoka (called the transporter). It was in 1985 that Karenjy already presented the first two of these at the international motor show in Paris. The Faoka even came in several variants: As limousine Lanja, as hardtop transporter Faoka and as convertible called Kalesa. In 1989, the Karenjy gained short local popularity as Pope John Paul II. visited Madagascar and was driven through the streets of Fianarantsoa in a Karenjy, converted into a popemobile.
The political changes in the beginning of the 90ies were reason for the Karenjy company to close the gates in 1993. It was not before 2009 that Le Relais, a french development organisation, made Karenjy awake after its deep slumber. With the project company Soatao founded by Le Relais, the Karenjy should come back to Madagascar's streets again. Until then, one year was already gone by repairing the old fabrics and organizing materials as well as tools. In 2009, the planning of new Karenjy models began.
From the beginning, every Karenjy has been made completely by hand. There are no production robots or assembly lines. In Ankofafalahy, a quarter of Fianarantsoa, about 70 people work in Karenjy production services today. Each car body is made from fiberglass and polyester, welded and lacquered by hand. All seats are cut by hand and covered by hand-tailored seat covers. Only motor, windows and tires need to be imported from foreign countries – just because there is no factory producing those car parts in Madagascar. It takes around one month for a Karenjy to be finished.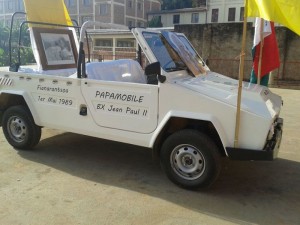 The first new Karenjy was the Tily, a car based on Renault 18 and Renault Express, both cars of the 80ies. In 2014, the Karenjy Mazana II was presented to the public, the first people could buy it in 2016. Like its precursor, Mazana II is a all-terrain vehicle with all-wheel drive. The 4-cylinder engine comes from a Peugeot Citroën, and makes it up to 150 km/h – but it might be difficult to find many free streets in Madagascar where you can really drive this maximum speed. Besides the normal model, Mazana will be available as cabriolet, too. The factory also produces Karenjy Lanja now, a gasoline-driven car with the engine of a Renault Express. In 2017, specially painted Mazana II were delivered to the Orange telephone network company and parcel service DHL to promote the car brand.
Although controversial discussed due to its edged look and simple interior, the Karenjy has been enjoying cult status on the island. If you want to own one of the few Karenjys, you will need to come to Madagascar or better live there: Karenjy is not exported to any other country yet. Up to date, one car costs between 4800 and 6800 € – which cannot compete with cheap, imported second hand cars, of course, but opens an own new market instead. In contrast to a second hand car, you get one full year of guarantee with a new Karenjy – or 100.000 km far. However, you have to wait for your car of dreams: The small company can make only some docen cars per year. In the upcoming years, production is planned to multiply and be able to finish up to 200 Karenjys per year.
More information about this topic:
Where to buy a Karenjy: Atelier Soatao, Ankofafalahy – BP1212, 301 Fianarantsoa
official Karenjy website