Godrogodro is a kind of spice cake. It is not really easy to make because you have to make carmel first and mix it with coconut milk, but the result is rewarding. Originally, this recipe may come from the Comores. But also Malagasy people claim Godrogodro as traditional and country-specific sweet. Usually, this spice cake is eaten cooled.
Ingredients:
400 g sugar
600 ml water
500 ml coconut milk
500 g durum wheat semolina
1 TL cinnamon
1 TL nutmeg
1 TL cloves
1 big vanilla bean
some oil
And that's how to do it:
First you need to make caramel: Put 200 g sugar and 100 ml water in a pot and slowely heat up. Very important: Do not stir as soon as it is boiling! It takes about 15 to 10 minutes on middle heat to become caramel. If you begin to stir the mixture, the sugar will crystallize and you only get a crumbly white mass instead of caramel. So do not stir in any case and watch intensily, because the caramel becomes dark very quickly in the end. You best use bright golden caramel. The darker it is the more bitter it is, too.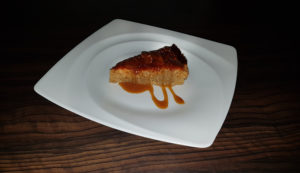 Meanwhile, heat up 500 ml coconut milk in a second big pot. To mix your golden caramel with coconut milk, the milk has to cook heavily so it has a similar temperature as the caramel. Too cold milk makes the caramel solidify instead of becoming a kind of caramel sauce. The easiest way to mix both is to whisk the boiling coconut milk with one hand and add very, very slowely caramel with the other hand. Spoon by spoon!
If you got your caramel milk cream, add the spices. Don't be thrifty, use heaped tea spoons. Cut the vanilla bean and scratch out the black mark and add it to the cream. While whisking on and on, add durum wheat semolina by and by, add 3-4 eating spoons of oil and 400 ml water. The dough is ready when it begins to loose contact to the pot walls.
Grease cake tin with butter and fill in dough. Use a little water to smoothen the surface with your fingers. Put 1-2 eating spoons of oil on top. Create another pot of caramel with the resting 200 g sugar and 100 ml water. Heat the oven at 180°C. Place all the caramel on top of the cake and put it in the oven for 20 minutes.
Let the cake cool completely before removing the tin.
Rezept drucken