Brochettes sy mangahazo
Brochettes are skewers with very small pieces of zebu meat – this recipe adds sesame manioc. In the evening, you can buy Brochettes in Madagascar in all larger cities from small grills along the streets. A tasty dinner for little money! As metal skewers, people often use bicycle spokes bent in shape. But you can also get Brochettes in almost every Malagasy restaurant. They are often served with peanut sauce and some kind of cucumber salad. The Madagascans see Manioc (Malagasy mangahazo, which means as much as a blue tree) rather as a "poor people food" than as an essential staple food like rice. Nevertheless, it tastes like potatoes and can be eaten like them as a side dish, of course.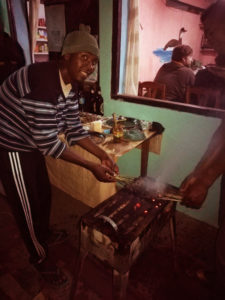 Ingredients for 3 persons:
For the peanut sauce:
1 small onion
1 tablespoon of oil
125 g roasted peanuts
100 ml coconut milk
2 tablespoons of soy sauce
For the sesame manioc:
flour for the coating
2 eggs for the coating
100 g sesame
100 g breadcrumbs (or Panko)
Oil for deep-frying
And that's how to do it: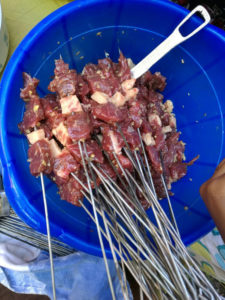 Cut the beef in very small cubes. Season heavily with salt and pepper, marinate with oil and cut garlic clove for one hour. Meanwhile, peel the manioc tubers with a knife and cut into finger-length pieces. Cook in boiling, salted water for about 20 minutes until all pieces are soft but do not fall apart (as you would do with potatoes). Hold under running cold water, then dry the manioc pieces on kitchen paper. Now it's time for the coating: Fill one bowl with flour, one with the two scrambled eggs. Fill a third bowl with the sesame and the breadcrumbs and mix it well. One by one, roll the manioc pieces in the flour, then pull it through the eggs and finally coat it with the sesame-breadcrumbs-mixture. It may be a good idea to use a separate fork for each bowl so you don't get a mess inside your kitchen. 😉
For the peanut sauce, chop the onion in small pieces and brown in 1 tablespoon of oil in a pan. Add 100 ml coconut milk and 2 tablespoons of soy sauce. Crush the peanuts in a mixer – if you don't like "pieces" in your sauce, crush it until it becomes some kind of flour. Add the peanut powder to the sauce, let it boil some minutes. Some people may like to add some seasoning but depending on the soy sauce you used it won't be necessary.
Heat up oil in a pot and light up the grill outside. Put the beef cubes on skewers – only a few per skewer! In Madagascar, they usually serve three to five pieces per skewer. Deep-fry the coated manioc pieces in hot oil until they are golden and crunchy. At the same time, grill the meat for some minutes. Serve hot.
Rezept drucken