Ifaty-Mangily is a village around 25 km north of Toliara (Tuléar) in Southwestern Madagascar. Originally, Ifaty was a simple village of fishermen. Due to the convenient location behind a large coral reef and the proximity to Toliara, first touristic infrastructure developed during the 1970ies yet: The beginning of Mangily village. Today both names are often used synonymous.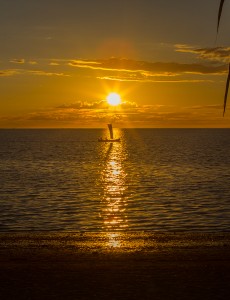 At the white sandy beaches of Ranobe bay (translated "big water") at Mozambique Channel, you have the best opportunities to relax. The water is warm and the sun shines on more than 300 days of the year. Ifaty has a number of well equipped hotels and lodges, via which you can organize trips by zebu carts (charrettes), lobster diners, pirogue journeys or visits to the nearby Reniala Reserve as well as the tortoise village. Owing to the sadly gotten worse security situation of southern Madagascar, please don't hike around the spiny forests of Ifaty on your own, and it's recommendable always to walk with a local guide in other ways as well.
Ifaty's diving schools offer guided scuba diving along different sites of the coral reef, you can rent all equipment right there. There are a lot of opportunities to discover the sea and its colorful inhabitants, for beginners as well as for experienced divers. In some spots, travelers even have the unique possibility to meet sharks within touching distance under water. You're not that brave? Then you will find plenty of chances to dive or snorkel inside safe coves. In August, lucky travelers can watch whales passing by the coast sometimes. The road to Ifaty has been paved in 2016. You only need about 20 minutes via route nationale (RN9) from Toliara to Ifaty-Mangily now.