Anjozorobe-Angavo:
The name probbably derives from Malagasy "zozoro" which means a special kind of reed in this area. According to the legend these reeds were used as shelters by the "Menalamba" who fought for Madagascar's independence under the colonial power.
Location:
The protected area Anjozorobe-Angavo is located 90 km northeast of the capital Antananarivo in Madagascar's highlands. A major parts belongs to region Analamanga, some parts already belong to Alaotra-Mangoro. There is a road (RN3) leading directly from Tana to the city of Anjozorobe, but it is partially not paved anymore and thus only drivable by 4×4. The last part of the way from Anjozorobe to the protected area near Andreba is a completely offroad sand and clay slope. In total, the ride takes two and a half to three hours. Taxibrousse and taxis usually go to Anjozorobe city but we do not recommend them.
Information about the protected area:     
The rainforest corridor of Anjozorobe-Angavo is one of the last remaining forests of the central highlands, and the major part is no primary forest anymore. In 1995, the first efforts to protect this area began. But it was not before 2005 that an area of 410 km² was officially declared a protected area by the ministry. Since then, the nongovernmental organization  Fanamby takes care of development and management inside Anjozorobe forest. Additionally, Fanamby tries to integrate the 13 villages that border the rainforest into the protection of the ecosystem. In 2008, the Association Antsahabe Miray (AMI) was created by native people in a village called Antsahabe, approximately 5 km away. They market self-made products (mainly oils) of the region. Up to date, about 500 people earn their living from this project.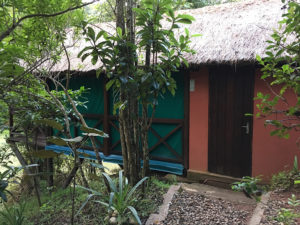 Only a small part of the rainforest is used for ecotourism. Different round trails, most of them well to walk, lead through the forest. You can do journeys from one hour to full day trips, among them a visit to a sacred (fady) waterfall. If you are interested in traditional Malagasy crafts and field work, you will be invited to do a special round trail adapted to these topics. Entry fees depend on the chosen tour and vary from 10.000 to 20.000 Ariary (3 to 7 €). Since Anjozorobe is not a national park, night walks are allowed.
Climate:
Usually, temperatures in the highlands exceed 25°C only during daytime, the nights can become quite cold. Moderate rainfall is normal through the whole year, so you should bring rainproof clothing with your equipment.
Infrastructure:
Infrastructure is modest. Fanamby operates the only hotel here, Saha Forest Camp. The lodge has a very good restaurant and ten bungalows with running warm water. Solar panels produce electricity that can be used at night only. Around the hotel, there is no touristical infrastructure worth mentioning, neither shops nor other accomodations. Camping is hardly possible. Since one day trips from Antananarivo make no sense, a reservation in Saha Forest Camp is the only possibility to visit  the protected area Anjozorobe-Angavo up to date (2017).
Fauna & Flora:        
Anjozorobe-Angavo is the home of very special lemurs: The black Indri (Indri indri), the black variation of Madagascar's largest lemur. But the tree canopies of the rainforest leave also place for diademed sifakas (Propithecus diadema), bamboo lemurs (Hapalemur griseus) and black and white ruffed lemurs (Varecia variegata) to jump around and take a rest in the sun. Alltogether, there are nine lemur species living here, four of them nocturnal.
You can watch about 40 species of reptiles and the same number of amphibians in Anjozorobe-Angavo. Among the most common here are chameleons such as Calumma crypticum and Calumma gastrotaenia as well as the Graceful Ground Gecko (Paroedura gracilis).
You need much more look and really good eyes to find the rare Calumma globifer or the small leaf chameleon Brookesia thieli. For photographers, the Satanic leaf-tailed gecko (Uroplatus phantasticus) may be one of the most beautiful motives in Anjozorobe, but thanks to his perfect camouflage it is not easy to find it. Botanists will love the flowers of countless orchids at the beginning of the rainy season. They got 90 different orchid species here. Bird friends can watch 70 different species, too.
But the protection of Anjozorobe-Angavo is unsafe. Slash-and-burn agriculture and wood cutting are raising and the few guests who visit the protected area do not really improve the financial situation of the bordering villages. So, unfortunately, we have to say: Visit this place as soon as possible, before this forest will vanish.
More worth reading about this topic: